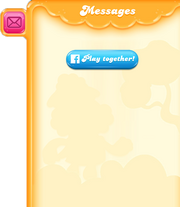 Messages is an element in Candy Crush Jelly Saga. It was released on August 28, 2015 and May 26, 2016 on Facebook. In the center, friends can send help (lives
, tickets

) or requests (lives and tickets). All are stored in a mail icon at the right of the screen.
This feature is available for version of Facebook and Mobile.
The message will stay in the inbox, whether you restart the game.
Tickets don't appear in the inbox (including mobile version). Instead, there is a pop-up saying that you received a ticket. Pressing "Ok" will remove the pop up.
Message Number in inbox will be displayed at the lower left corner of icon.
If you have more than 1 message, all of them will be subsumed into a small message box (maximum of 5 message).
If you play in other account, the messages also leave in that account.
Ad blocker interference detected!
Wikia is a free-to-use site that makes money from advertising. We have a modified experience for viewers using ad blockers

Wikia is not accessible if you've made further modifications. Remove the custom ad blocker rule(s) and the page will load as expected.