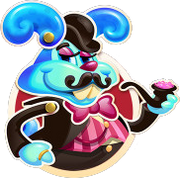 Liquorice Larry is the third antagonist in Candy Crush Jelly Saga. He first appears in level 141, in the intro and all monkling boss levels.
In the 20th episode, Liquorice Lot, he first appears as a clown, who is taking a rest.
Appearance
Edit
He is a blue rabbit who wears a black suit and holds a pipe with his left hand.
Properties
Edit
In monkling boss levels, he competes with Jenny by trying to create blue monklings and collect them first than her.
The home of Liquorice Larry was revealed in Liquorice Lot episode.