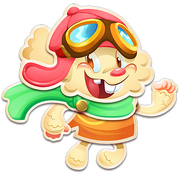 Jenny is the main protagonist in Candy Crush Jelly Saga.
When you complete the levels, Jenny appears jolly. However, she will become sad if you fail a level.
She also gives the player some helpful tips if you have trouble with some levels.
Appearances
Edit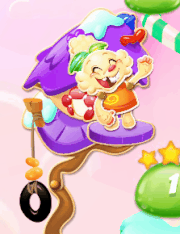 She is a yeti girl (marked as the third main character of the Candy Crush game series, and the first main character who is an animal and a hero (Yeti)). She wears an orange shirt and a green ribbon.
In Hard Level and Super Hard Level, she wears a green robe behind, wears glasses and yellow helmet. She doesn't change the old clothes.
In Cupcake Marathon, she wear an orange sport clothes with an orange scraf on her head.
When the player combines color bomb and coloring candy each other, she wears a green scarf, wears glasses and red cap.
In any advertures, she always flies with her balloon. Her journey is to explore the worlds and rescue Mr. Yeti, her friend who is trapped by Jelly Queen.
Her jumping scene when the player completes level was changed after 21 January 2016.
In the 1.3.3 update and later, after completed boss levels (jelly boss levels, puffler boss levels, monkling boss levels) and monkling levels, she will jump out of the control board.
She is the first and only main character is a animal (yet as she is a yeti).

She also is the first and only character who does not cry in (Super)Hard) levels when the player fail on a (Boss) level, yet she only become sad in levels.
Ad blocker interference detected!
Wikia is a free-to-use site that makes money from advertising. We have a modified experience for viewers using ad blockers

Wikia is not accessible if you've made further modifications. Remove the custom ad blocker rule(s) and the page will load as expected.