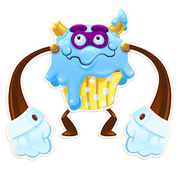 Cupcake Carl is the second antagonist in Candy Crush Jelly Saga. He first appears at level 21, in the intro and all puffler boss levels.
Appearance
Edit
He is blue cupcake with two hands, and wearing purple eye-patch on his face.
In the 34th episode (Unknown Episode 34 name), he give flowers to cupcake girls.
In the 35th episode (Unknown Episode 35 name), he stands on a big cake sadly.
In the 36th episode (Unknown Episode 36 name), he is jumping on the marshmallow house, where pufflers are living.
Puffler boss level
Episode 34
Episode 35
Episode 36
Ad blocker interference detected!
Wikia is a free-to-use site that makes money from advertising. We have a modified experience for viewers using ad blockers

Wikia is not accessible if you've made further modifications. Remove the custom ad blocker rule(s) and the page will load as expected.