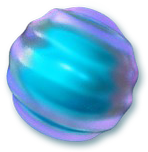 Coloring candy is one of the special candies in Candy Crush Jelly Saga. It is brought from Candy Crush Soda Saga. It is the most powerful special candy in the game and it is the most difficult to create. Unlike color bombs, coloring candies have color to them. Thus, they take a color of the candies that were used to make them. When formed, it gives the player 280 points.
A coloring candy is one of two new combinations that were added by the game developer and is not available on Candy Crush Saga.
Formation
Edit
Like in Candy Crush Soda Saga, a coloring candy is created when 6 or more candies (including special candies) of the same color form a straight line of 5 with, at least, one candy adjacent to the middle (3rd) candy in the line. When formed, 280 points are given to the player.
Properties
Edit
Matching a coloring candy with, at least, two candies of the same color will activate it. The coloring candy will burst and then spew out its coloring bubbles on all candies (including special candies) of another color that is dominant on the board, thereby coloring them into its color.
If the matching combination warrants a special candy, a respective special candy will be created as well. If the matching candies are locked in liquorice locks, the locked candies will get unlocked but not destroyed.
In addition, coloring candies can be activated when swapped with a regular candy. Therefore, similar to color bombs, their mobility is limited. It is not possible to move a coloring candy on the board without activating it.
However, if a coloring candy is swapped with a regular candy which is the same color as other coloring candies, it won't change the color of coloring candies.
Combinations
Edit
Combination
Effect
Image
Coloring Candy + Candy Fish
All the regular candies according to the color of coloring candy will turn all a candy fish
Coloring Candy + Striped Candy
Makes all candies with selected color and coloring candy's color(if both have same color, then the candy color with the most amount on the board will be selected) to striped candies and activate them
Coloring Candy + Wrapped Candy
All the regular candies according to the color of coloring candy will turn all a wrapped candy
Coloring Candy + Color Bomb
Big explosion that clear all candies on the board and the blockers with layers (Changed from June 8, 2017 to June 13, 2017)

With blockers:

Strip all layers of blockers (cupcakes, jelly cubes, cotton clouds)
Fishing nets and large fising nets do not affected
Cupcakes in jelly cubes: Strip all layers of jelly cubes, all layers of cupcakes are still kept on the board. When make matches or use special candies' effect, they will be removed

Coloring Candy + Coloring Candy
All candies will be the same color according to the color of coloring candy chosen (unless both coloring candies have the same candy color)
Ad blocker interference detected!
Wikia is a free-to-use site that makes money from advertising. We have a modified experience for viewers using ad blockers

Wikia is not accessible if you've made further modifications. Remove the custom ad blocker rule(s) and the page will load as expected.