This article is about element in the game. For the character, see here.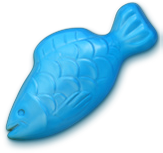 Candy fish, also known as swedish fish is one of the special candies in Candy Crush Jelly Saga and also appears in Candy Crush Soda Saga.
Formation
Edit
A fish candy is created when 4 candies (including special candies) in a square or 5 candies in the letter "P" or "Q". When formed, it gives 120 points to the player.
Properties
Edit
When you make a normal match with candy fish or combine color bomb with the same color of fish, they will randomly target a blocker or a regular candy and swim to it, if there are no blockers, or even empty space. Every candy or blocker that they destroys, they will give 3x as many points they supposed to give, for example: 20 x 3 = 60 for candies and most blockers. However, no points will be given to the player if it hits an empty space.
Level type
Target

Without blockers, target tiles without jelly.
With blockers, targets tiles with jelly inside blockers when activated without jelly, target blockers when activated with jelly
After finishing to spread the jelly, target remaining blockers, tiles without jelly, then random candy last.

Targets tiles with green jelly if fish is on pink jelly and spreads pink jelly on target tile, then other blockers, then random candy last.
and

It will target a random frosting tile regardless of what is under it or on it
Next is pufflers which is revealed a part.
Last, target blockers, frosting and random candies.

It will target an as first priority without blockers.
When there is no monklings yet, they target blockers.
When the board has monkling, blockers is the first priority or candy under monklings without blockers on ther ways.
If the way of monklings is a diagonal line, they will target blockers, or random candies.
Last, target if they are still on the board, then random candies.

Similar to acting in . However:
Combinations
Edit
| Combination | Effect | Image |
| --- | --- | --- |
| Candy Fish + Candy Fish | Adds an extra fish and choosing a random tile | |
| Candy Fish + Striped Candy | Chooses a random tile and acts like a striped candy | |
| Candy Fish + Wrapped Candy | Chooses a random tile and acts like a wrapped candy | |
| Candy Fish + Color Bomb | Makes all candies with selected color to fish candies and activate them | |
| Candy Fish + Coloring Candy | All the regular candies according to the color of coloring candy will turn all a fish candy | |